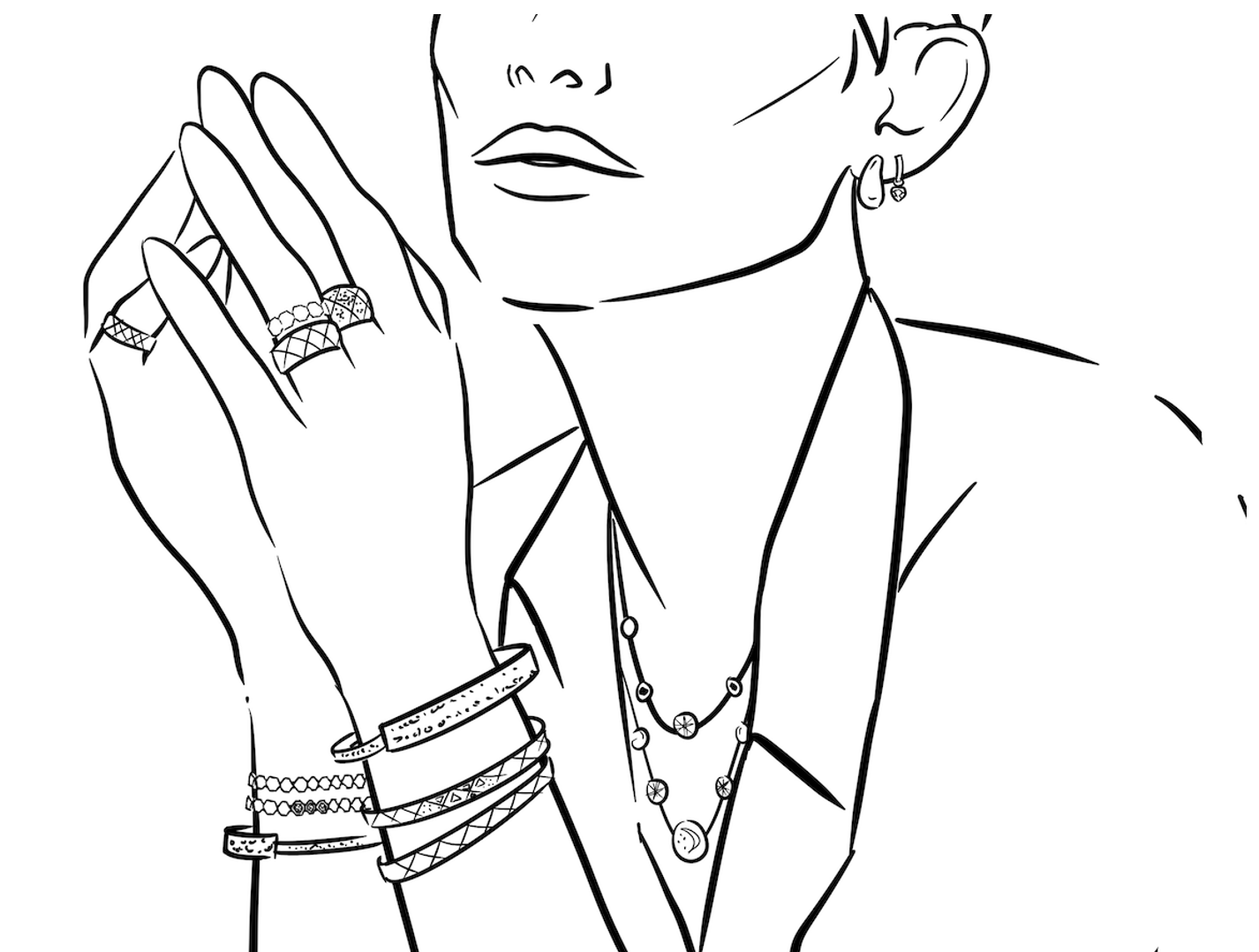 We did a deep dive into three iconic jewelry collections, after our members told us that most own at least one piece of: Cartier Love, Cartier Juste Un Clou and/or Van Cleef & Arpels Alhambra. For our members these pieces hold their value and are also worn on heavy rotation.
For a jewelry collection to become iconic, here are our criteria:
Distinctly recognizable, yet timeless design
Dainty, neutral and durable – wearable every day
Exclusive – select distribution, often difficult to buy online
Storied –attached to emotion and meaning
Credible – the brand must signal quality and expertise in jewelry, confirmed by a brick & mortar store and a level of awareness
Some collection SKUs priced below $15,000
If those seem doable, the next two are much harder to replicate.
Time – the top three have been around for 40+ years, it takes a while to build brand recognition
Luck – Iconic women have been photographed not just wearing them, but clearly owning them (not a borrowed red carpet situation)
THE IMPORTANCE OF SEEING IT "IN THE WILD"
For any item of apparel or accessory, it is really important for the piece to be viewed in context. And with jewelry, this is even more important. Clothing can be contextualized on a mannequin or even a flat lay photograph. But for jewelry, nothing beats seeing it on a real person (hence the popularity of jewelry on social media).
When it comes to product sightings "in the wild" there are two types of royals. The first is real royalty (think Princess Diana's House of Garrard sapphire engagement ring). This type doesn't borrow jewelry. If they are photographed wearing something, you know they own it. Hollywood royalty is different. Everyone knows that celebrity red carpet or special occasion jewelry is most often borrowed and essentially a walking advertisement. Therefore, when a celebrity is photographed wearing jewelry in their everyday life, it carries a lot more weight. Not only does it signal that they own the piece, but it also gives clear relatable style cues. And when you see people in your social circle wearing it, the style cues translate quickly into wish lists.
OUR TOP PICKS FOR THE NEXT ICONIC COLLECTIONS
Since most of our members own the top three icons and many expressed a desire to find jewelry that wasn't worn by everyone else, we mined their "currently coveting" responses and matched them up with our criteria from above. We also did a search analysis to see which ones trended up consistently and we came up with a few future candidates for icon status.
CHANEL Coco Crush
The brand needs no introduction, while it is better known as a fashion brand, CHANEL signals quality and an ability to hold its value. The quilted motif on the Coco Crush collection is reminiscent of the classic handbag and distinctly CHANEL. Easy to wear bangles, huggies and rings make this collection stackable and easily wearable.
Dior – Rose des Vents
Another fashion brand that commands desire and imparts quality, Dior, like CHANEL, has invested in increasing its offer in the fine jewelry category. The Rose des Vents is an interpretation of Monsieur Dior's lucky star, which gives this collection a great underlying meaning, particularly as a gift. (Who doesn't need more luck?) Dainty and with multiple color ways it feels like a fresh alternative to the VCA Alhambra charms.
Bottega Veneta Drop
Simple, yet statement making, the Bottega Veneta drop collection (first seen on the runway) is versatile enough to be worn with an evening gown or a baseball hat. Now available in necklace or bracelet form, this distinctly recognizable drop collection may be on its way to investment piece status.
Tiffany Lock Collection
There is perhaps no more recognizable American jewelry brand than Tiffany. Both Tiffany T and the Lock Collection were mentioned by our members, but the Lock Collection showed a stronger search history results. We also love the edgy design, unisex positioning and the story of connection and personal bonds. Plus, it is a great excuse to visit the newly redesigned flagship on 5th Ave in NYC… maybe for breakfast?
Chaumet Bee My Love
Chaumet is a centuries old French jewelry and watchmaking brand. It was purportedly the first jewelry brand to have a store in the Place Vendôme. It does not have huge brand awareness in the US, but its credibility as a high jewelry brand is indisputable. We love the symbolism of the bee which has historically conveyed wisdom, rebirth and industry and the hexagonal pattern was designed perfectly for stacking.
Jessica McCormack Gypset
Jessica McCormack is a UK based brand with a flagship store in Mayfair London. The brand has a flair for making modern jewelry inspired by vintage designs, Jessica's signature Gypset hoops often featuring a stone set on blackened gold. They have become an everyday staple for famous women including: Meghan Markle, Eva Chen, Victoria Beckham and Rosie Huntington-Whitely. Just follow the #gypsetgirlgang for inspiration.
PREDICTING THE FUTURE
It is hard to claim a successful prediction when it comes to iconic jewelry status because it takes a long time see it take hold. That said, if brand and design is strong enough, jewelry pieces get resold intact and not valued just for carat weight. So…to check our accuracy on these predictions, a year from now we'll check those resales…and also our LuxuryVerse members' wish lists!