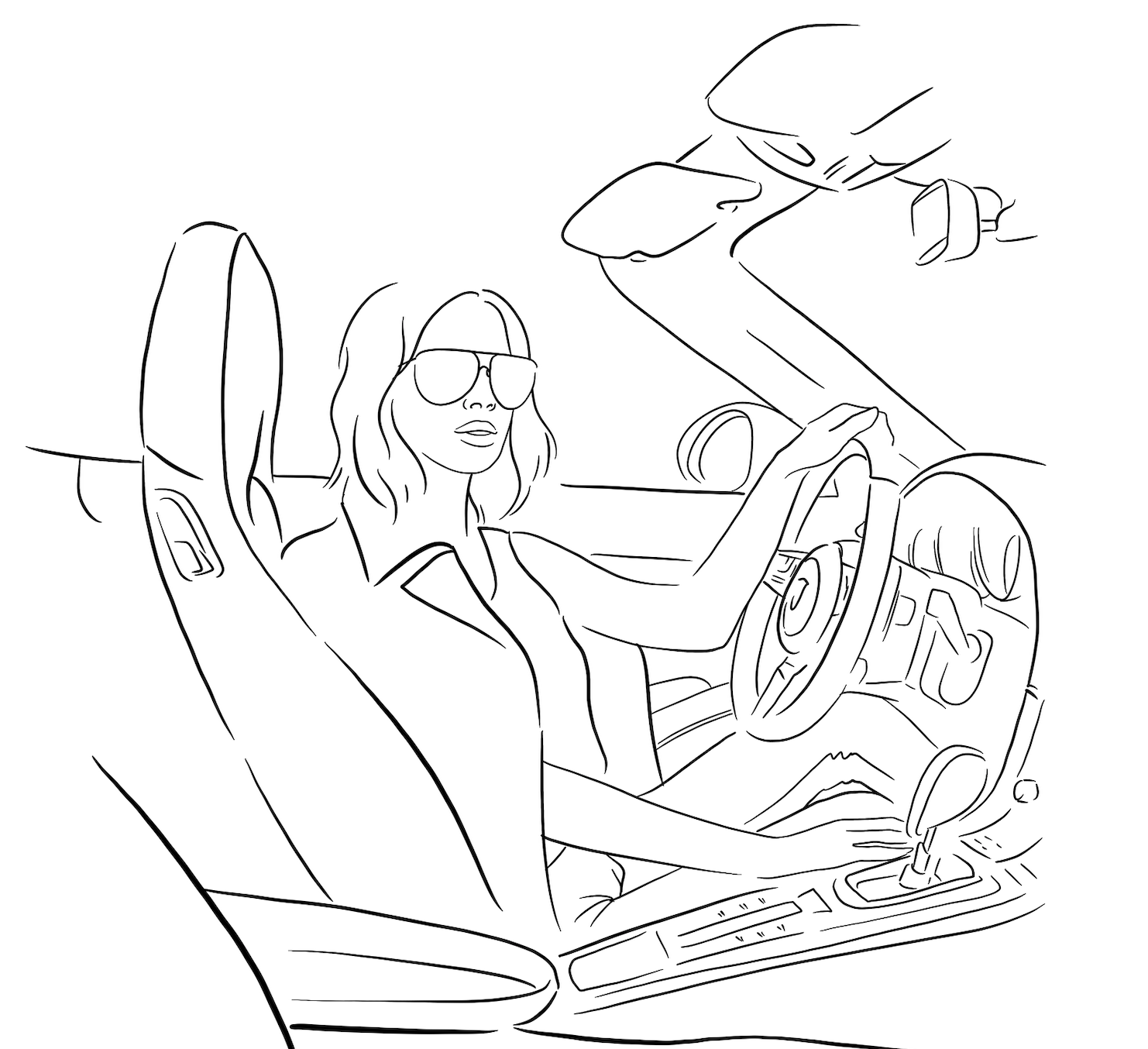 What Automotive Can Learn from Beauty
The US is unabashedly a car culture. Our country is built around highways and suburbs, a vast interstate system and a proliferation of strip malls and drive-throughs. There are very few cities that are easy to navigate without a car. Like many other luxury categories, cars express status, taste and values. But particularly in America, cars also symbolize freedom and independence.
Therefore, it came as no surprise to us that our LuxuryVerse members had a lot to say when it came to their vehicles. There are some nuances the automotive industry:
Barriers-to-entry are high; there are a relatively small amount of brands, particularly in luxury
It's a gender-neutral category, where the same products are bought and used by all
There is a lot of spending on advertising and their perceptions leave a long-tail
The point-of-sale is a key factor in the purchase funnel
Cars are for Mainly for Men, but Moms also Use Them?!
Cars are advertised for men. Period. Even the depiction of women in car commercials reinforces it – Elizabeth, Gen Z, NY
I genuinely believe that the system is intended and implemented in a way that targets men, regardless of how the auto industry attempts to market itself to the general public. It is quite rare to see auto advertisements with a woman driving or getting into the vehicle, especially a sports car. – Rotem, Millennial, LA
Are you ready? Not every woman is a mother who wants an SUV for their kids. AKA soccer moms. Every ad with women alludes to having children. It infuriates me to no end! It's like men can be silver foxes in roadsters, who also have children, but the moms have the SUV. I'm not a mom, by choice – Anna, Millennial, LA
I feel like you only see women in ads when they are buying family vehicles. The sports cars are always shown with men. It would be really cool to see a bad ass woman driving a sports car in a serious way, and not as a sexy side piece. – Yevy, Millennial, LA
Here are some gender stats on the US: Women make up 40% of new car registrations and 50% of used cars. Eighty-five percent of our LuxuryVerse members are the sole or equal influence when it comes to car purchases in their household. In addition, many industry sources attribute the growth in luxury SUVs to women who like the space and the safety (also echoed by our members who rate safety as the #1 feature). Women are highly influential in luxury automotive. It is also clear that they do not see the depiction of women by car companies as aspirational; at best it is practical.
The Dealer is the Weakest Link
I feel like a car dealership is a foreign idea to me. It's not fun to be at a luxury car dealership. I feel like the entertainment room and refreshments are just boring. – Anna, Millennial, LA
At the Mercedes dealership none of the sales associates were women or identified as women. I had to come back a second time with my male partner for this reason. Then when I did that, although the salesperson knew the car was for me, they directed all questions/answers to my partner. -Naomi, Millennial, Houston
There are so many complaints about the Point-of-Sale (aka the dealership). Gender stereotyping is rampant with many feeling like sales jargon is overused to pressure women into sales. The lack of women on the sales floor is mentioned repeatedly. But perhaps the most cutting comment is that it is not only a stressful, intimidating experience but it is also BORING. The experience of buying perhaps the most expensive luxury item you own and certainly the one that you are most likely to use on a daily basis should not be boring. Just visit a high-end jeweler for comparison, there is giddy anticipation, it feels sensorial and slightly over-the-top-in-a-good-way and there is an emotional connection with a good salesperson. If luxury auto dealers can't deliver that, at the very least, they should try for slightly welcoming.
Despite Toxic Masculinity in Advertising, Women Still Want Nice Cars
Mercedes and BMW topped the list of cars owned by our members. Porsche was rated #1 as the car they most wanted next. Despite all the pain points felt by our female members, it didn't seem to dissuade them from owning or buying an expensive, usually European car. So maybe the car companies don't really need to do much because women are still coming to them? Besides, isn't it hard to create global ad content that appeals to both men and women? While it may seem prudent to hold the status quo, we can look to an analogous category and see how that might end in disruption.
Beauty – A Case Study on Inclusivity-Based Disruption
Not too long-ago prestige beauty in the US was dominated by 3 big brands: Estée Lauder, Lancôme and Clinique. These brands spent heavily on advertising and their main distribution was department stores throughout the US. One opportunity for growth was reaching a broader audience, particularly as the US population became more diverse. These brands had the scale to increase their shade ranges to fit more skin tones and they began to feature models of different ethnicities in their advertising. It was a big step toward inclusivity, women could hopefully see their skin tones reflected in these models or at least in the photographed product array.

Waning of Traditional Advertising and Innovation at the POS Leads to New Entrants
These three brands were built on a model of advertising with big print and TV campaigns and shelf space in department stores. In the early 2000s, a new brand that did almost no advertising, but completely re-thought the in-store experience rose to the top. A Canadian makeup artist brand called MAC started growing by opening its own stores, replacing the commission-based department store clerks, with makeup artists. Not only did this line have a very broad product range to fit many more skin tones, but it also realized there was a huge opportunity to make the buying experience less intimidating and more fun. Loud music blared while a diverse group of men and women welcomed you to sit down and experiment with makeup. It was revolutionary.
A decade or so later another brand, seizing the power of social media and its ability to create a community led to the success of Fenty Beauty. Founded by Rihanna, it launched with a much broader shade range and content messaging tailored to social media that allowed even more women to see themselves as part of the brand. This coupled with a partnership from Sephora, a convenient and non-intimidating store experience led to another example of disruption through inclusivity.

Lessons (and Ideas) for Car Companies
Based on the case study, we think it simply is not enough to put more women in advertising. Not only do most of our LuxuryVerse members say car ads are meaningless to them, it feels like it would be a drop in the bucket when it comes to moving the needle. Ditto to the influencer partnerships which seem forced and inauthentic. The obvious place to shake up this traditional category is online and at the point-of-sale. Tesla has been a trail blazer when it comes to re-thinking the dealership (as noted by our LuxuryVerse members), but there is still plenty of opportunity for other brands to innovate:
Make online research and design more fun and gather data in the process. Everyone goes online and "designs" their new car when researching options, choosing from the available exterior and interior colors as well as a confusing array of packages. Many of our members wished there more color options (blue in every shade seems to be trending). Why not build a fanciful version with colors and options that are NOT currently available? How about after sales add-on proposals (hint – women want nicely designed purse holders and heat-proof toiletry storage). It would still be fun, you can share it with others, add to a wish list (and the companies get data to inspire designs in the future). If you want to make it super luxe, refer the user to a bespoke custom shop that can trick out their vehicle to the owners' specifications.
Invest in your POS design and experience. It should not be boring, it should have comfortable seating, interesting drinks, good music and a fancy bathroom. Host real "trunk shows" making it an opportunity to invite guest speakers and interested buyers to learn more about the engineering and craftsmanship. Better yet, have a talk on your Elective Vehicle or Hybrid options.
Build community. Jeep Wrangler owners have organically grown one centered around a love of open-air, off-road driving; it makes even a relatively passive owner feel like they are part of the brand. Brands can facilitate these communities online with forums for sharing, whether it be trouble-shooting, driving tips, lifestyle recommendations or after sales add-on suggestions.
Think out of the box when hiring and training staff. Hire more women. Eliminate the jargon and have real conversations. Build an emotional connection, after all this is a high loyalty category where personal recommendations, not just for the brand, but the dealer is important. Luxury buyers have trusted sources for jewelry, shoes, fashion, beauty and real estate. Have you ever heard anyone say "I have this great person at ____ car brand"? Probably not, and that's a problem.
Change is Coming
It feels like we are on the cusp of a seismic shift in our car culture. Elective Vehicles are going to change the brands we buy and how we service our cars. Gas stations and parking lots are being re-designed. On-line research has led to a new generation that is willing to skip a test drive. Far fewer teens are reaching the age of 18 with a driver's license. The external factors shaping the auto industry are coming rapidly. But fundamentally, I think we will remain a culture that sees cars as a symbol of independence, freedom and self-expression. That said, rapid external change with an increasingly frustrated customer base, leads me to believe that, in just a few years, our car survey may look very different when it comes to most desired brands.
*For full data from the LuxuryVerse Automotive Survey email us at luxuryverse@looklook.app