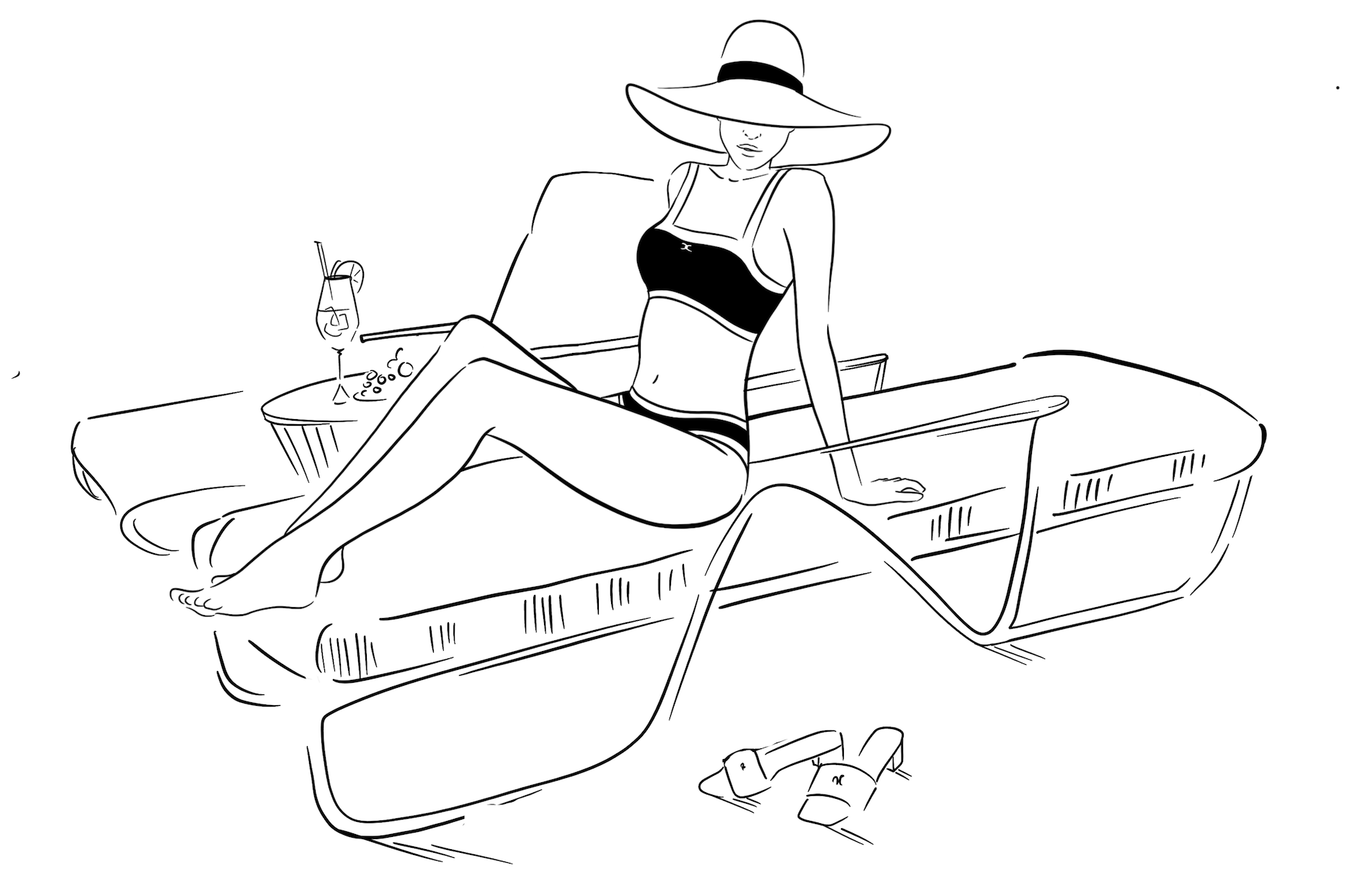 How do you stand out to luxury buyers in this short season?
It's been a banner few years for swimwear. "Revenge spending" on travel post-pandemic meant everyone needed to refresh their swimwear wardrobe. It seemed every lingerie company launched a swim extension (Lively, Skims, Cosabella, Agent Provacateur and a Victoria's Secret re-launch, etc). Almost every luxury designer has a swim line from Chanel to Johanna Ortiz. And then there were the DTC brands embracing fit and exclusivity like Andie and Summersalt. It is a crowded pool in the swimwear category; it has a peak selling season and we are in the thick of it.
They say brand doesn't matter that much when choosing swimwear
The LuxuryVerse members said that brand is WAY LESS IMPORTANT when considering swim than in other categories well behind style, quality and solutions-oriented fit. This seemed to correlate with the responses of brands they are considering or already purchased this season. It was extremely fragmented with no single brand garnering more than 30% or so. In addition, resale isn't common in the category.
What do they mean when they say "Style"is most important?
For me, it's mainly style, style, style!!! I'll wear anything from Chanel, to LV, to Victoria's Secret as long as I love the look! And I'll even wear swimsuits as bodysuits to go out and about!🥰 – Stacey
I may want one cut for a family vacation vs a different style for a trip with friends. Always great to have an option for different settings. It's the same thing with clothing. – Courtenay
Preferences were highly variable when it came to style and we can only say that this seems to be very personal. Some people are firmly in the one-piece camp, others say bikinis only. Some look for vibrant prints, others want classic solids. Full coverage, thongs, bust support or string tops, they all came up. However, most members wardrobe their swim assortment making sure they have something appropriate for a family beach day as well as something head turning for a Vegas girl's trip.
How do they determine Quality?
I love trendy swimwear but have realized that it doesn't last and I fall out of it quickly. I've learned that buying quality swimwear will last you longer. – Sonia
It needs to be something that doesn't pull out your skin to create lumps and bumps. Hunza G is very popular because its fabric doesn't do that. – Leah
Fabric is the biggest indicator of quality. It must have enough stretch so you can move but be substantial enough so it isn't see-through and offer support. It must be able to withstand sun, chlorine, SPF and salt season after season.
Table Stakes for Swimwear Retailers
Swimwear try-ons require good lighting. And most department store dressing rooms have horrendous lighting. So, I buy a ton of swimsuits online ….I'd love to see a swimwear store that somehow offers private, natural lighting options. And alcohol. A lot of alcohol. – Angela
These are the must-haves for our LuxuryVerse members when on the hunt for swimwear.
An easily shoppable e-commerce experience. The vast majority buy online with the most common channel being the brand's own website followed by multi brand sites like Revolve and Net-a-Porter. Trying on at home allows them to control for the lighting and mirrors, all of which are lacking in most stores.
A frictionless returns process. They buy multiple sizes in the same style and want to return the ones that don't fit. Sizing even among the same brand is rarely consistent.
Bikinis must be sold as separates. Most women are different sizes for tops vs bottoms, but merchandise them together so finding a mate is easy.
The Case for Saving $$ for Top-of-Funnel Swimwear Marketing
If it is a short season, with tons of competitors and a consumer driven by their own personal style needs it seems like a straight-forward case to spend all your marketing dollars on low funnel, conversion-driving ads. Put your top styles out there and click to buy, right?! I mean, the LuxuryVerse members clearly stated that Brand is not a driving factor, so it is hard to argue against this strategy. But as with most human behavior, what people say and what they do aren't always aligned.
Lifestyle and Quality are hard to Convey with Performance Marketing The brands most mentioned by the LuxuryVerse members channel lifestyle and quality; it is hard to communicate those with simple product shot imagery. Brands like CHANEL and Zimmerman, are top of mind in the category because the wearer feels like it will be absolutely the right choice lounging on a yacht in a fabulous location. Skims scoring well is testament to the founder's investment in content that artfully combines glamour, sexiness and inclusivity.

Quality is also very difficult to convey in static product shots. Brands like Hunza G and Eres have slowly built their reputation for innovative and supportive fabrics, laying the foundation for relevance for seasons to come.


The #1 Channel for Buying is the BRAND SITE, requiring your brand to be top-of-mind. While our members did not rank brand as that important when choosing a suit, they said the #1 destination for purchase is the brand site. Keeping your brand top-of-mind in their consideration set means they will go directly to your e-comm site instead of taking their chances browsing the curation of a multi-brand retailer.
According to a study by NPD, swim over-indexes when it comes to online sales vs. regular apparel, totally in-line with our LuxuryVerse member's mindsets. Not so long ago, there were a few dominant players in the swimwear business training us to buy direct from the brand. They started with catalogues (hello Victoria Secret and J. Crew) But as their popularity waned, along with department store traffic, new online DTC brands saw an opportunity. The pool got super crowded. To stand out in this sea (pun intended) year after year invest in communicating your brand's "vibe". Next season, when this cohort is thinking of what to wear on a beach vacation, those "vibes" will lead straight to the brand homepage for a little revenge shopping.