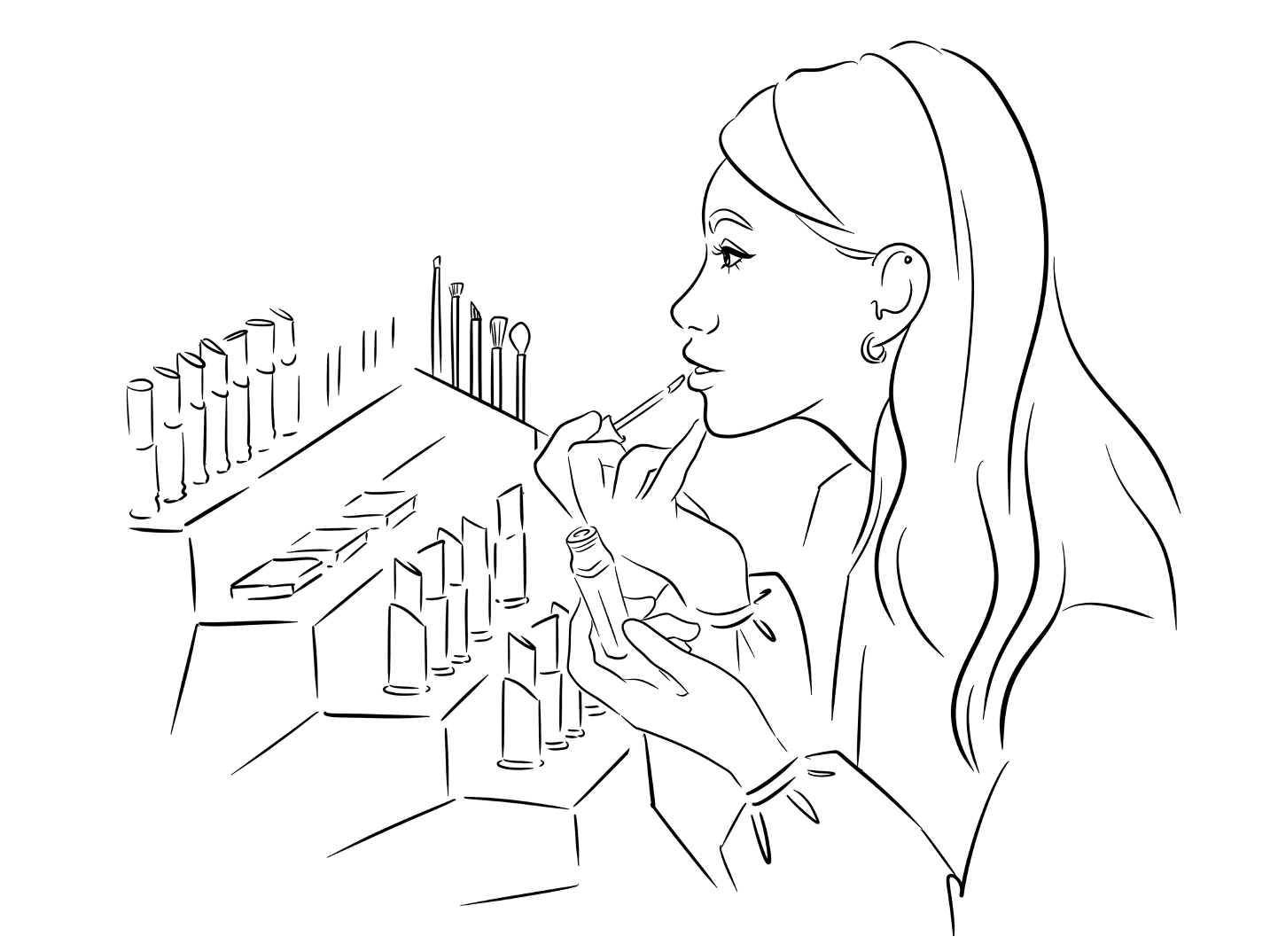 Sephora launched in the US in 1998, when the oldest millennials were reaching adulthood. As they grew up, so did Sephora. Their relationship is tight today, but as this generation enters their 40s, we think they might be moving in opposite directions. While the next step for millennials in beauty is unclear, we think the behavior of Gen Xers holds some valuable insights for the future.
SEPHORA x MILLENNIALS = A TRIFECTA OF OPEN SELL, E-COMMERCE AND YOUTUBE
Before Sephora, sophisticated beauty consumers looking for something beyond the drug store made their pilgrimages to department store beauty counters. Gen Xers started at Clinique, where the 1,2,3 skincare routine hooked them. They got comfortable sitting in a chair while a sales associate from Estée Lauder or Lancôme applied makeup, gave them tips and sweetened the deal with "free" gifts of lipsticks and skincare in a cute makeup pouch…if you spent $100 or more, of course.
That all changed when Sephora opened its first store in 1998. Modeled after French perfumeries, its open-sell model gave beauty shoppers something they valued even more than the freebies in dept stores – control. They no longer had to ask an associate for help, they could explore everything on their own. At department stores you had to engage with a salesclerk just to figure out the price and these forced interactions resulted in sales pressure and anxiety.
I want to feel relaxed when I'm searching the store and if I decide to buy something- it should be my decision fully. – Rotem, LA, Millennial
Sephora also had incredible timing. E-commerce was just taking off when they launched sephora.com in 1999, one year after Amazon started selling more than books. By 2005, they had 100 stores, right in time for the launch of YouTube. The popularity of its makeup tutorials ushered in an era of DIY makeup experimentation and waning reliance on the expertise of the beauty counter associate.
With over 1,400 stores in the US, 850 more in Kohl's stores and a multi-billion dollar e-commerce business, it is no surprise that the vast majority of our under 40 LuxuryVerse members said Sephora is where they are shopping currently for beauty both online and offline.
WHY MILLENNIALS LOVE SEPHORA
They are still in discovery mode and product discovery happens in-person. Sephora carries most of the brands and categories they need so being able to buy it all one place matters. Convenience is key, there is usually one close to all our members either at work or home.
After two decades of honing, Sephora's online experience is pretty seamless. Quick shipping is appreciated. Filtering for "best sellers" or "clean" in a catalogue as broad as Sephora's is an easy way for members to discover new products. Check out gives you options to sample new products and the online tools for shade selection, while not perfect, provide a general guide. Sephora's flexible return policy lowers the risk even further.
The loyalty program, while receiving mixed reviews, is still mentioned frequently. Many like the deeper discounts and the fun of using points on higher value samples.
WHERE SEPHORA ISN'T MEETING THEIR EXPECTATIONS
 Cleaniness, cleanliness and cleanliness. The "ick" factor of testers in store was clearly an issue. This is probably why online shopping at Sephora scored slightly higher than in-store as the most shopped channel.
This generation seems to love being at home, even more than the Gen Xers. As a result, if they do leave the house and have to deal with parking and lines in-store, nothing infuriates them more than out-of-stocks.
I hate when the store is super crowded, and I feel rushed and overwhelmed. Second, if I went out of my way to purchase in store and they do not have the specific product or shade I am looking for I find it slightly annoying because I love the experience of finding that perfect fit. – Olivia G, NY, Gen Z
 If a specific item is out of stock or unavailable it feels like a wasted trip. – Daniella S, LA, Millennial
WHERE GEN X AND MILLENNIALS ARE STARTING TO CONVERGE
When we look at our 40+ members, you see the residual impact of their department store upbringing. Gen Xers prefer dept stores in-person and they see a clear distinction between a sales associate and a makeup artist. 60% say they go in-store to seek advice from a makeup artist with a much smaller percentage valuing the advice of the sales associate. Meanwhile, it was the opposite for the under 40 age group. The dept store generation learned to distinguish between the clerks and the artists behind the counter and their expectations are high. As millennials become more time constrained (a clear call-out from many) with less time to scroll TikTok for makeup ideas, going to a destination where expertise is available becomes very appealing.
My life is so busy I frequently become overwhelmed and having another trivial errand to add to the list like purchasing a makeup product I'm already familiar with is burdensome. – Kaitlyn M, NY, Millennial
When Millennials gain more wealth they look for luxury beauty brands like CHANEL or Augustinus Bader and they can't find them in Sephora. We think the luxury brand gap will become even more pronounced as Sephora and Ulta fight for dominance. Exclusive brands give them a competitive edge and many of those brands are geared towards a younger consumer like Rare Beauty at Sephora and Kylie Cosmetics at Ulta.
I would love to try Chantecaille but because it is difficult to come by in Sephora and Ulta I have not had the opportunity to try it.-  Milana L, Boca Raton, Millennial
While Sephora does carry luxury brands like Westman Atelier and La Mer and clean brands like Ilia, the experience associated with the purchase does not measure up to smaller players like Violet Grey, Credo or Blue Mercury. The expectations for products that command premium price points include a calm, clean, well-designed environment with attentive and knowledgeable staff.
Sephora is at times hectic and hard to navigate. – Pauline D, Millennial, LA
I also LOVE Violet Grey online but mostly the experience in store. The associates are always so in the know and eager to help you find some great products. Not to mention the store is absolutely stunning and I always leave feeling fulfilled with my shopping experience and the new products that I've picked up. – Brandy H, LA, Millennial
WHY IS LUXURY BEAUTY SO FRAGMENTED, BUT ASPIRATIONAL BEAUTY IS DOMINATED BY TWO PLAYERS?
The answer is scale. The cost of selling beauty in person is high. You need experienced salespeople, testers and constant cleaning. To cover all those costs with a relatively low price point (as compared to fashion), you need to turn a lot of product. To turn a lot of product, the average price point needs to be within reach for most of the foot traffic. To get enough traffic the location needs to be super convenient. And since most members replenish online, you also need a robust e-commerce experience with fast shipping, lots of samples and a broad catalogue for one-stop shopping. Unfortunately for premium beauty, that kind of volume is hard to achieve when your core client has enough discretionary income to spend $500 on a 3.4 oz jar of moisturizer. There aren't that many of them, and now more than ever, they aren't concentrated in a single zip code.
THE FASHION AND BEAUTY CATCH-22
To make brick and mortar work with any type of scale in luxury beauty, it helps if the store is also a destination for higher priced SKUs, like handbags and shoes. The different categories generate additional foot traffic and drive up the sales per square foot. Department stores have this advantage, they can curate premium beauty brands, but they also offer designer accessories and fashion in a single location.
Fashion can help when it comes to brick-and-mortar but it isn't additive online. Gen Xers rated department stores in-person as their #1 destination for beauty. But when it came to buying online, they prefer Sephora, other multi-brand retailers (like Dermstore) or even brand sites to department stores. When it comes to digital fashion retailers like Farfetch (who closed beauty online just one year after launching it, despite having acquired the expertise of Violet Grey) Net-a-Porter, Shopbop and others have realized, the online game for beauty is fierce. The investment that beauty-only retailers like Sephora and Ulta have made into a true omni-channel experience with sophisticated customer segmentations, product recommendation tools, easy-to-navigate online merchandising and sticky loyalty programs make it hard for multi-category online experiences to feel relevant in comparison.
If You Build it, Will the Millennials Come?
Our millennial members are busy. They are entering the hectic 40s where they have families, careers and a lot of demands on their time. Sephora has become a habit and it will be a hard one to break. The in-store piece still really matters to them, with 90% saying they shop in-person, as compared to 75% of the 40+ segment. That said, they are inherently more digitally native than Gen Xers and they expect the online experience to be on par with Sephora. So, until a concept comes around with an elevated brand selection, convenient brick and mortar locations and a bad ass e-commerce platform, they are probably going to back Sephora.